Just want to put two things here for you to consider together.
First, this appeared on my Facebook timeline this morning.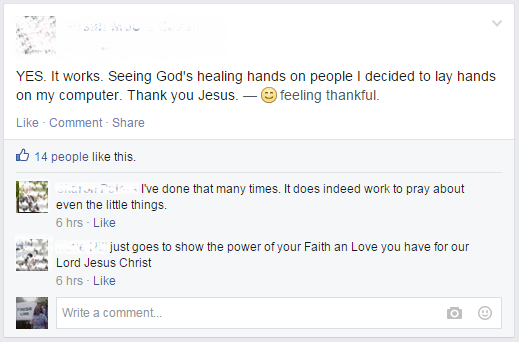 Second, this news story. An excerpt:
The crisis the community of Kavumu is facing is unimaginable. Girls as young as 18 months old, and up to 10 years old, have been viciously attacked. Many are stolen from their beds at night, the perpetrators preying on a poor population without strong locks on their doors. The girls are returned to their parents violated, their bodies devastated, many requiring extensive and complex surgeries.
Do you believe in a deity who's all-just, all-powerful, and all-loving, a deity who would give someone the power to "heal" her laptop but would allow a baby girl to be raped? If you're like most Christians, that's exactly what kind of deity you not only believe exists but actually choose to worship. And even if you don't believe that your god heals laptops, if you pray for things and thank him for "blessings," then you still believe in a god who intervenes; that is, you still believe in and willingly worship a deity who's perfectly capable of stopping a baby from being raped and chooses not to.
Let me guess. Mysterious ways? Free will? Fallen world? "Who are you to judge God?" Yeah, okay. If any of those work for you, you're a champion at rationalization, just like I used to be. I used to tie my brain in knots. And I can already hear some people out there thinking, "We can never understand God. He is so far beyond our human understanding, yada yada yada." If that works for you, well, okay.
When I finally let it all go, it was like a huge fan blowing clean, crisp air to drive away the thick, black smoke that had been choking me. I no longer have to deal in absurdities and spout crap – yes, crap – to explain why I think there's an omni-benevolent deity who watches children be raped, and that this deity deserves my worship. If I were presented irrefutable evidence today that this god exists, I would say, "Fine, he exists. But don't think for a minute that I will worship him."
Phil Robertson, that awful guy from Duck Dynasty, is all over the news right now because of a speech he gave in which he imagines the rape, mutilation, and murder of "an atheist," his "little atheist wife," and "two little atheist daughters," and oh, what a shame that they can't say it's wrong because they don't believe in right and wrong. Phil, we absolutely do believe in right and wrong, and we try to stop suffering to the best of our ability. I wish I could say the same for your god.
This post is much longer than I originally intended because I got mad. What can I say, I'm your "angry atheist" friend.