Here are some verses I'd like to share with anyone who thinks that the Bible is the foundation for morality, and that a person can't be good without it.
If [a slave] was single when he became your slave and then married afterward, only he will go free in the seventh year. But if he was married before he became a slave, then his wife will be freed with him. If his master gave him a wife while he was a slave, and they had sons or daughters, then the man will be free in the seventh year, but his wife and children will still belong to his master. But the slave may plainly declare, 'I love my master, my wife, and my children. I would rather not go free.' If he does this, his master must present him before God. Then his master must take him to the door and publicly pierce his ear with an awl.  After that, the slave will belong to his master forever. When a man sells his daughter as a slave, she will not be freed at the end of six years as the men are.  If she does not please the man who bought her, he may allow her to be bought back again. Exodus 21: 2-7

When a man strikes his male or female slave with a rod so hard that the slave dies under his hand, he shall be punished. If, however, the slave survives for a day or two, he is not to be punished, since the slave is his own property. Exodus 21: 20-21

Moses was furious with all the military commanders who had returned from the battle. "Why have you let all the women live?" he demanded. "These are the very ones who followed Balaam's advice and caused the people of Israel to rebel against the Lord at Mount Peor. They are the ones who caused the plague to strike the Lord's people. Now kill all the boys and all the women who have slept with a man. Only the young girls who are virgins may live; you may keep them for yourselves. Numbers 31

If you see a comely woman among the captives and become so enamored of her that you wish to have her as wife, you may take her home to your house. But before she may live there, she must shave her head and pare her nails and lay aside her captive's garb. After she has mourned her father and mother for a full month, you may have relations with her, and you shall be her husband and she shall be your wife. However, if later on you lose your liking for her, you shall give her her freedom, if she wishes it; but you shall not sell her or enslave her, since she was married to you under compulsion. Deuteronomy 21: 10-14

 If within the city a man comes upon a maiden who is betrothed, and has relations with her, you shall bring them both out of the gate of the city and there stone them to death: the girl because she did not cry out for help though she was in the city, and the man because he violated his neighbor's wife. Deuteronomy 22: 23-24

If a man is caught in the act of raping a young woman who is not engaged, he must pay fifty pieces of silver to her father. Then he must marry the young woman because he violated her, and he will never be allowed to divorce her. Deuteronomy 22: 28-29

Slaves, obey your earthly masters with deep respect and fear. Serve them sincerely as you would serve Christ. Ephesians 6:5

If your master is a Christian, that is no excuse for being disrespectful. You should work all the harder because you are helping another believer by your efforts. 1 Timothy 6: 1-2
In Numbers 5, which is too long to quote here, a jealous husband who suspects his wife of adultery can take her to the priest, where she will be forced to drink an abortifacient. If she's innocent, it says, she will still be able to bear children. If she is guilty, her fetus will die.
This book, which advocates slavery – even literally beating a slave to death – and rape and murder, which takes time to tell you not to sew different fabrics together or allow a menstruating woman to touch things, this book is supposed to be the foundation of morality without which I can't be a good person? This book is "inspired" by an all-wise and all-loving deity? Really?
Christian friends, if you believe that slavery is wrong, that rape is wrong, that child abuse is wrong, that people (whether slaves or women) can never be property, and that women aren't unclean and inferior to men, you believe these things in spite of your Bible. You know what is right without this awful book, and so do I.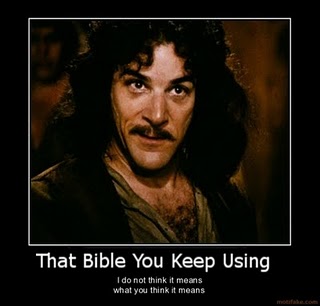 "But, DeeDee," you might be thinking if you're a "liberal" Christian like I once was, "I don't believe that God supported these things. They were written with poor human understanding." They certainly were written with poor human understanding. But don't you suspect than an all-loving God would have made damn sure that the Bible had just one verse that said, "Do not rape"? Or "You may not own slaves"? What does it say about your god that he "inspired" or "guided" this book that has caused the suffering and death of millions, when all he had to do was "inspire" someone to write "Do not rape" instead of "If you rape someone, pay her father a fine and then marry her"? What does it say about your god that he uses 20% of his 10 Commandments to say that he's jealous and #1, but couldn't spare one that said, "Do not enslave anyone"?
Have you heard the saying, "No one takes the Bible more seriously than fundamentalists and atheists"? Think about it. If you go through the Bible and pick what you think was "poor human understanding" and what you think was "really" inspired by God, then you are the one deciding what is moral. Either you take the Bible at its word, or you are moral without it. I'm willing to bet, Christian friends, that you are moral without it.