Chris Stedman posted on his blog today about survey results from participants in Interfaith Youth Core, a campus service organization that welcomes young people from every faith – even non-faith. The survey showed that almost 25% of their participants are nonbelievers (ranging from atheist to your ubiquitous "spiritual but not religious"), a higher percentage than their Catholic, Buddhist, and Hindu participants combined. (I strongly encourage you to read the rest of the blog post. I still need to get Chris' new book, Faitheist.)
Now consider the news stories that pop up occasionally about secular or humanist "church" services. Obviously, they're not really church; they're a group of people getting together to socialize and listen to an inspiring message. Sometimes they even sing. But there's no worship going on. The media call them "church" because they really don't know what else to call them.
Maybe you remember last summer's push – brutally mocked in some quarters that I'll leave for you to guess – for the military to have secular chaplains.
Why do nonbelievers want to go to "church"? Why do they want to build Habitat for Humanity houses with Christians and Muslims? Why do they want chaplains?!
Because – and you'll read this a lot on my blog – we are people. We are just like you. We want community. We want to help our fellow human beings. We want to belong. We want to love each other. We sometimes need advice and solace. None of these things come with a prerequisite to believe in Zeus… why, then, must they require a belief in Yahweh or Allah or Shiva or any other deity?
For nonbelievers in large urban areas, finding outlets for service and community is usually not very difficult. But in small town America, good luck finding a service project or a social group that isn't in some way tied to a church. Many nonbelievers won't donate to or participate in projects that are connected with a religious group. Many others will gladly do so if they don't see the group's beliefs being pushed in any way.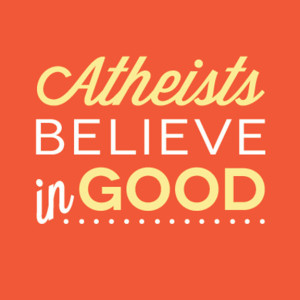 Churches, open yourselves to people who might be attracted to your close sense of community or who want to help with your service projects. Welcome volunteers to your Habitat for Humanity house or your soup kitchen. Invite an atheist to your church's book club: "We're reading Gone Girl this month. That is one twisted book! Have you read it?" Not all of a church's organizations or projects would be fitting or appealing to nonbelievers, obviously. They're probably not going to be interested in your prayer group. But most modern churches have lots of things going on that nonbelievers would be happy to join. And if your friend asks with some trepidation, "Are they going to try to convert me?" you can say, "No." (Assuming that's true… if someone would try to convert them, maybe it's not a great idea to invite them.)
Conversely, if you're fortunate enough to live in a city or town that has a humanist organization, join their service projects, too. Humanist organizations are always working on some charity or service project. Maybe your Sunday school group could call the local humanist or secular organization and ask if they need more volunteers. If your college campus has a Secular Student Alliance, go visit. Not to say, "Let me tell you about Jesus." To visit. Join one of their service projects. Suggest that your Baptist Student Union work with them on their project at the homeless shelter.
Don't smirk at stories about nonbelievers wanting chaplains or "church." I know it may seem like a person who hates lettuce but wants a salad, but remind yourself that there are plenty of salads with no lettuce. Recognize that nonbelievers are just people who need the same things you do, and stop viewing us as some kind of strange or threatening other. 
As the popular t-shirt says, "Atheists believe in good." Theists believe in good, too. So let's believe in – and do – good together!
(On a side note: there are atheists who hate the idea of anything resembling a church. They even refuse to go to atheist conventions because they're too much like church. There are atheists who hate the very idea of "interfaith" projects and dialogues. The word "faithiest," which Chris Stedman appropriated for his book and proudly uses for himself, was originally a derogatory term that some atheists used for people like him. I totally understand, but also totally reject, this kind of attitude. Call me a softy, but I think we're better when we work together.)