I haven't been a nonbeliever for very long, but I've already had people ask me, "You still like _____?" For example, when I posted on Facebook that I was listening to the Advent at Ephesus CD, a friend messaged me that she was surprised I still wanted to listen to it. As a lover of beautiful things – literature, music, art – why should I stop thinking them beautiful just because I don't think their subject(s) literally happened? I don't think many (or any) of the millions of tourists to the Parthenon believe in or worship Athena. So, no, I don't have to be a Christian to love Handel's Messiah or Michelangelo's gorgeous Pietà. And I don't have to believe in Yahweh to continue to be fascinated and enamored with the literature we have in the Bible.
This will be the first of what I plan to be many posts about parts of the Bible that I love and/or find interesting. It seems only right to begin with my favorite: the very first chapter.
If you ask someone to talk about a beautiful poem in the Bible, they might say one of the Psalms or a passage from Ecclesiastes or the songs of Mary or Miriam. Those are all lovely, absolutely. But I don't think many people would mention the first verses of Genesis. This isn't because they aren't beautiful. It's because most people don't realize that they're a poem. Most English translations render them as prose paragraphs.
Do you think people would be as strident about reading these verses as a literal account that supersedes modern scientific evidence and fact if they opened their Bibles and saw a poem instead of prose? Maybe, maybe not. But I do know one thing: in their misguided attempts to shoehorn this poem into the mold of science – this modern insistence that something must be literal in order for it to be true – they kind of miss the point.
Genesis 1 is not saying, "Here is what literally happened." Genesis 1 is saying, "Here is how we should understand our world."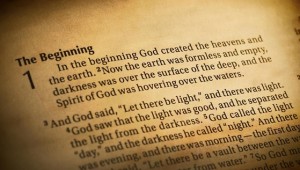 The ancient world was full of creation myths. And they were ugly. The world arose from war, blood, and dead bodies. Then the Hebrews threw their own myth into the ring, a myth in which the world was magnificent. It was created with purpose and not the result of supernatural wars and bloodshed. It wasn't an accident. It was good. "It was good" is the refrain of this poem. It's repeated at the end of every day of creation. Like, in case you missed it, it was good! 
Compare that worldview to what we find in the Babylonian myth, the Enuma Elish. The god Marduk kills the goddess Tiamat and makes the earth with her corpse: "He sliced her in half like a fish for drying." Lovely, no? Then man is created.
Blood I will mass and cause bones to be. 
I will establish a savage, 'Man' shall be his name. 
Verily, savage-man I will create. 
He shall be charged with the service of the gods 
That they might be at ease!
The Hebrews rejected this understanding of humanity as savage slaves for the gods. Genesis has two creation accounts. In this first one, men and women are created simultaneously and equal, both in the image of God. The parallel, intentionally repetitive structure of these lines is famous:
So God created humankind in his image.
In the image of God he created them.
Male and female he created them.
The chapter actually begins with a nod to the feminine side of God. When the spirit of God "moves" over the waters, the word is actually from the word for brooding, as in a bird brooding over its nest. Fortunately, some English translations convey this meaning. It's a radical concept that the Bible (sadly) does not uphold throughout. But at least it's here at the moment of creation.
The Hebrews had no way of knowing that the universe is billions of years old, nor did they have any concept of natural selection or genes or cells or DNA or "science." They couldn't see the trees, but they saw the forest, and they knew that it was good.